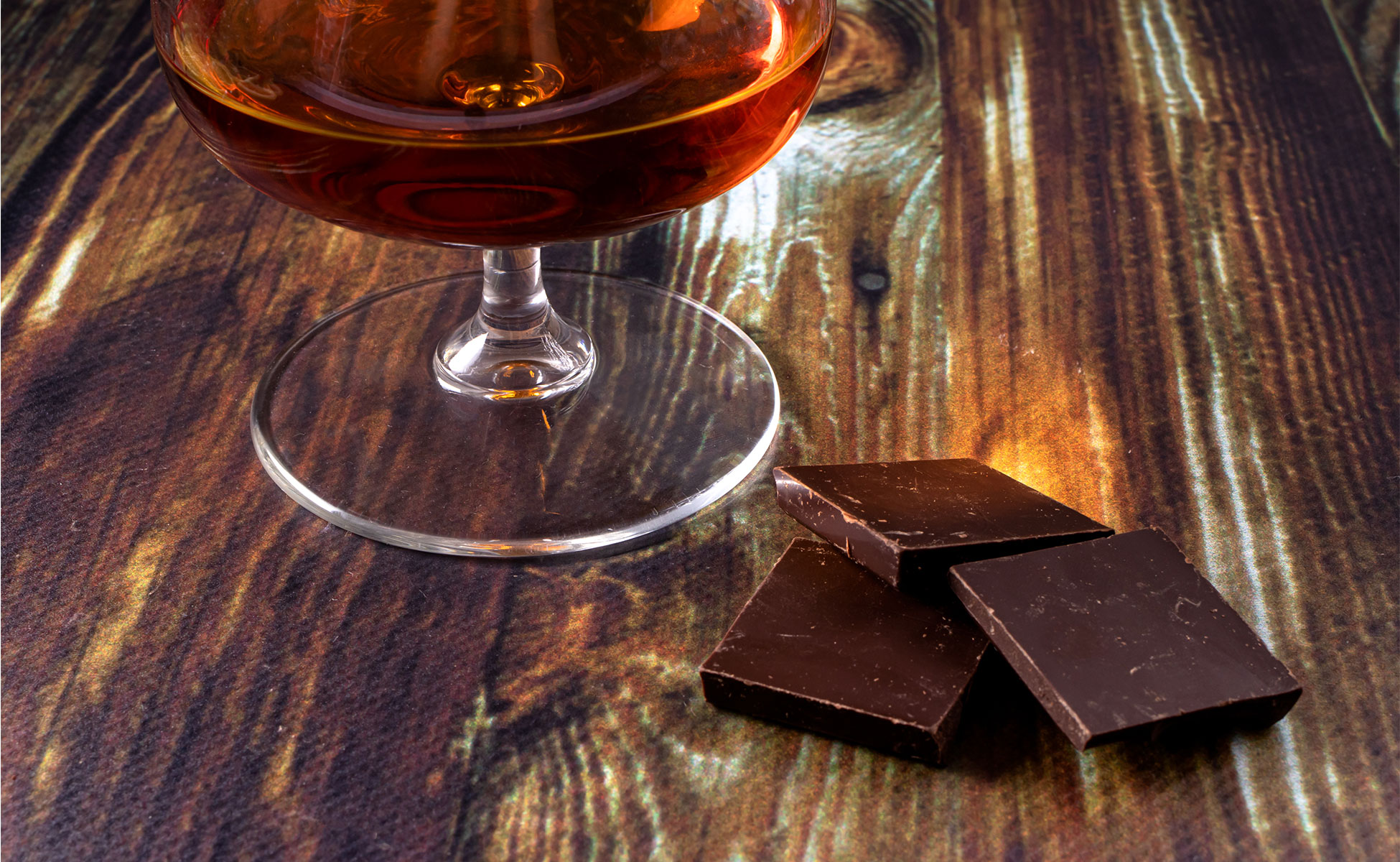 A complete guide to pairing a. smith bowman distillery bourbon & chocolate
This year, skip the wine and cheese. Whether you're celebrating Valentine's Day at home, hosting a festive dinner party for friends, or taking Halloween night into your own hands — chocolate and bourbon pairings are a match made in heaven. Chocolate's unique richness, mouthfeel, and flavor profiles mean you can pair it perfectly with our equally flavor-forward award-winning bourbons.
How to Taste:
So where to begin? Since both bourbon and chocolate have large flavor profiles, it helps to have guidelines for your pairing. The best way to get the most out of your bourbon and chocolate pairing session is to take a sip of the spirit first and let the flavor expand in your mouth. Swallow and then take a small bite of chocolate, allowing it to slowly melt — the flavors will gradually mingle on your tongue. Follow up with another small sip of the spirit and enjoy! Between your chocolate sampling, be sure to eat a plain cracker and drink some water to cleanse your palate.
Ingredients You'll Need:
Bowman Brothers Virginia Straight Bourbon Whiskey

Isaac Bowman Port Barrel Finished Virginia Straight Bourbon Whiskey

John J. Bowman Single Barrel Virginia Straight Bourbon Whiskey

Salted Caramel Chocolate

Orange Chocolate

Dark Chocolate

Chocolate Truffles

White Chocolate

Milk Chocolate with Nuts
Our Bowman Brothers Virginia Straight Bourbon Whiskey is distilled three times using the finest corn, rye, and malted barley, producing distinct hints of vanilla, spice, and oak.
Salted Caramel Chocolate — The subtle savory notes of our Bowman Brothers Virginia Straight Bourbon Whiskey will send your tastebuds bonkers with the juxtaposition of sweet caramel and salty flavors of this chocolate.
Orange Chocolate — Orange chocolate demands an equally smooth partner with bold notes of oak and spice to elevate its citrus flavor. Bourbon with a rye mash bill adds the spicy kick needed to tingle your taste buds.
Our Isaac Bowman Bourbon is aged in charred white oak barrels, then finished in port barrels, some that come from Virginia wineries. This combination of finishing barrels produces flavors of jam with caramel and spice notes.
Dark Chocolate — With the greatest depth of flavor for a style of chocolate, and their addictive touch of bitterness, dark chocolate provides the necessary counterpoint for this sweeter, full-bodied bourbon produced from the port barrels.
Chocolate Truffles — The velvety smooth combination of the solid chocolate and creamy ganache center of chocolate truffles complements the layered palate and oak and warm char finish of this bourbon.
For our John J. Bowman Single Barrel Virginia Straight Bourbon Whiskey, we hand select some of the oldest barrels in the warehouse to produce a single barrel bourbon with hints of toffee, leather, figs, and almonds.
White Chocolate — The unctuous and classic creamy nature of white chocolate accompanies the spiciness of this high-proof bourbon, complementing the oak tannins and cinnamon flavor notes nicely.
Milk Chocolate with Nuts — The smooth balance of sweet and rich with a nutty addition brings out the subtle flavors of this oaky, creamy-bodied bourbon. The texture of this chocolate pairs nicely with the balanced and long finish of this whiskey, and neither will overpower the other.
With so many flavors of chocolates out there, we encourage you to sample and savor your own chocolate box, taking note of which flavors you enjoy the most when paired with our bourbons. Delighted by your sampling? Try our Run, Mary, Run Mudslide cocktail recipe for a sweet, creamy, and chocolate-forward vodka cocktail next…