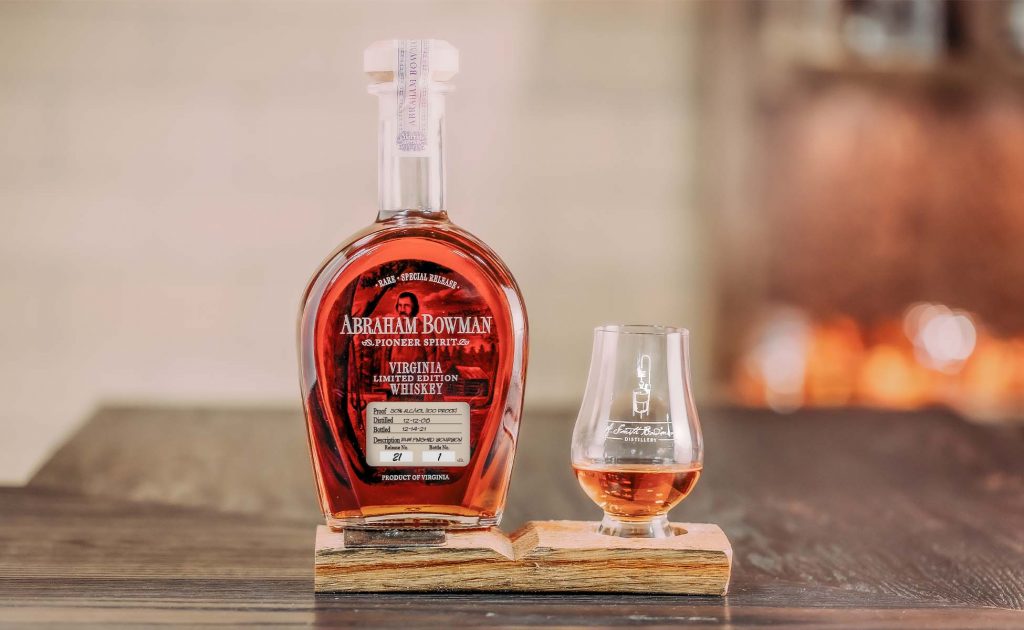 A. SMITH BOWMAN DISTILLERY RELEASES LIMITED ABRAHAM BOWMAN 15-YEAR-OLD RUM FINISHED BOURBON
FREDERICKSBURG, VA (Dec. 15, 2021) – A. Smith Bowman Distillery announces the latest release in its Abraham Bowman series of experimental whiskey, the Abraham Bowman Rum Finished Bourbon.
The bourbon in this release aged for nine years in American White Oak before finishing in rum casks for an additional six years. This release may just be the oldest rum cask finished bourbon ever produced. 
This 15-year-old bourbon has an intense reddish-brown hue. Master Distiller Brian Prewitt describes it as bright and lively, noting the aroma begins with notes of well-aged bourbon. "The aroma of vanilla, caramel, and candied nuts give way to leather and coconut. Finally fading to the notes brought in from the long rum finish, aromas of molasses, brown sugar, and candied fruit. Sweet flavors of toffee and toasted sugar with vanilla. This bourbon has a viscous mouthfeel and pleasant aftertaste that lingers on the palate. The immense complexity of the spirit continues to offer new and enticing aromas and flavors with each subsequent taste."
"Our Abraham Bowman series allows us the flexibility to experiment and discover unique new expressions, permitting us to gain new insights along the way," said Prewitt. "The age on this rum-finished release is unparalleled and resulted in one of our favorite finishes to date."
The Abraham Bowman Rum Finished Bourbon is part of a series of limited-edition whiskies, named after Abraham Bowman, the commander of the 8th Virginia Regiment in the American Revolutionary War. Each edition of the Abraham line is a different expression and a new release is offered a few times a year.  
Abraham Bowman Rum Finished Bourbon will be available through the A. Smith Bowman Distillery gift shop on a first come, first served basis on Saturday, December 18, 2021. This release will also be available through the Virginia ABC Board lottery. Quantities are very limited. The total age of this bourbon is 15 years and is bottled at 100 proof. These 750 ml bottles have a suggested retail price of $69.99.