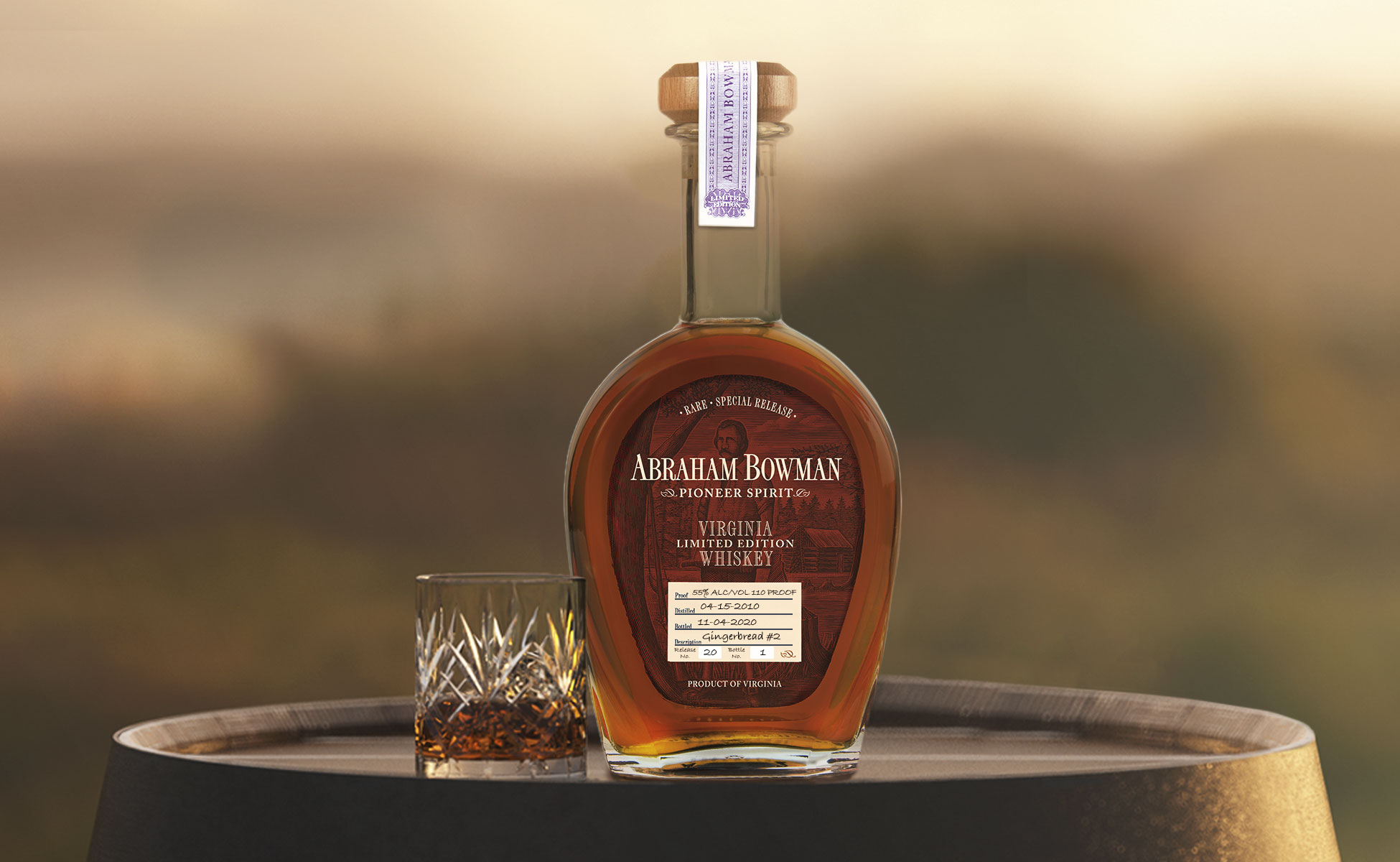 LIMITED EDITION WHISKEY
Release 20 | GINGERBREAD #2
FREDERICKSBURG, VA (Nov. 19, 2020) — A. Smith Bowman Distillery announced its 20th release in the Abraham Bowman Limited Edition Whiskey series, Gingerbread #2. This expression is based off the Distillery's previous gingerbread-finished Abraham Bowman Limited Edition Whiskey, which was recognized as the triple gold winner during the MicroLiquor Spirits Awards in 2014.
Starting out with its traditional recipe for bourbon and distilled to 144 proof off the still, the spirit matured in select white oak barrels for more than seven years. These barrels were made up of staves with six-month minimum air-drying time, an average wood grain profile and a number four char level. After seven years, the bourbon was then transferred to freshly emptied Gingerbread Stout barrels, where it was left to finish maturing for over three years.
Tasting notes for this 10-year-old whiskey describe it as having an aroma of ginger and brown spice, with strong notes of vanilla and hints of nutmeg. The flavors of toasted oak with caramel pralines moves to a hint of graham cracker and fig, giving the bourbon a medium mouthfeel with a huge impact of flavor that lingers pleasantly.
"Our journey is to discover how new and different expressions of bourbon can be produced using creative ideas and inspiration from our local Virginia environment," said Master Distiller Brian Prewitt. "Like many of our previous releases, we feel this expression is an interesting perspective on producing a delightfully new whiskey expression."
The Abraham Bowman Limited Edition Bourbon Whiskey is part of a series of limited-edition whiskies, named after Abraham Bowman, the commander of the 8th Virginia Regiment in the American Revolutionary War. Each edition of the Abraham line is a different expression and a new release is offered a few times a year.
The Abraham Bowman Gingerbread #2 Whiskey will only be available through the A. Smith Bowman Distillery gift shop via an online lottery system, beginning on Nov. 21 and ending on Nov. 24. Selected lottery winners will be able to receive their bottles by pick-up only. Quantities are very limited. The total age of this bourbon is just over 10 years and is bottled at 110 proof. These 750 ml bottles have a suggested retail price of $69.99.